Best Practices for E-Commerce Apparel Packaging
July 23, 2021
2021-07-23 19:38
Best Practices for E-Commerce Apparel Packaging
Best Practices for E-Commerce Apparel Packaging
Whether you're an industry-leading online apparel e-commerce chain or just selling clothes out of your home, there are best practices to follow when it comes to packaging your apparel for shipping. Think about how you would want to receive any type of online apparel. You wouldn't want to receive it in a package that is hard to carry, a burden to open, or does not provide protection from the hazards of shipping. You also wouldn't want it arriving full of wrinkles or stains. Today we'll discuss some best practices used for packing and shipping apparel in the e-commerce industry.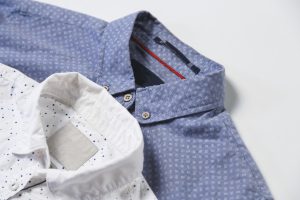 Protection from shipping hazards
When considering a package container for your apparel shipping needs, it's important to contemplate what type of protection your product needs. Tearing during shipping is one of the most important things to think about when selecting a package for apparel. If your product tears during shipping, it will result in a return. You will want packaging that provides superior protection against tears and rips. Moisture can also affect your product during shipping, so make sure your apparel ships in packaging that protects against any possible weather damage.
Container Design
Waste is significant when it comes to selecting a packaging design. Is not best practice to send out a pair of sneakers in a container the size of a refrigerator just because it may be more cost efficient. Environmentally conscious citizens may view that as wasteful and could lead to a distaste is your brand. Also, consider apparel packaging that is lightweight and is as easy to carry as possible. Little convenient things like this for your customers can make or break your brand, especially if you are up and coming in the apparel e-commerce industry. The most important aspect to keep in mind when choosing design is making sure the packaging is easy to open upon delivery. Packaging that is hard to open with frustrate consumers and will negatively impact the way they view your products and your brand.
Prepping your product for shipment
Presentation is everything, no matter what you are doing! You don't want your customers first impression of your products to be that of a wrinkled disaster. Each type of clothing requires different folding techniques. When choosing a technique that's right for your products, make sure it folds in a way that leaves your product wrinkle-free throughout the entire delivery process. Once folded, wrap, or place your product into material that will keep it gently folded until it reaches your customers hands. Once your product is wrapped, place it in a container that best fits snug around it. If your container is slightly larger than your product, pack some filler into it to avoid your apparel from sliding around.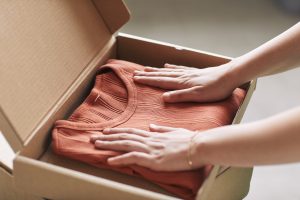 Online sales are projected to increase over the next five years. The e-commerce apparel industry is showing no signs of slowing down either. Packing and shipping your clothing products will be vital for your company as you aim to keep up with the growing and very competitive pace of online retail.